Maternity and newborn packages
There are many pearls of wisdom that come with motherhood and a true appreciation of the female form is one of those. As a mother myself, I can understand just how special and magical a pregnancy is. As a professional photographer, I have strived to learn how to capture that magic in photographs of the mother-to-be for a number of years.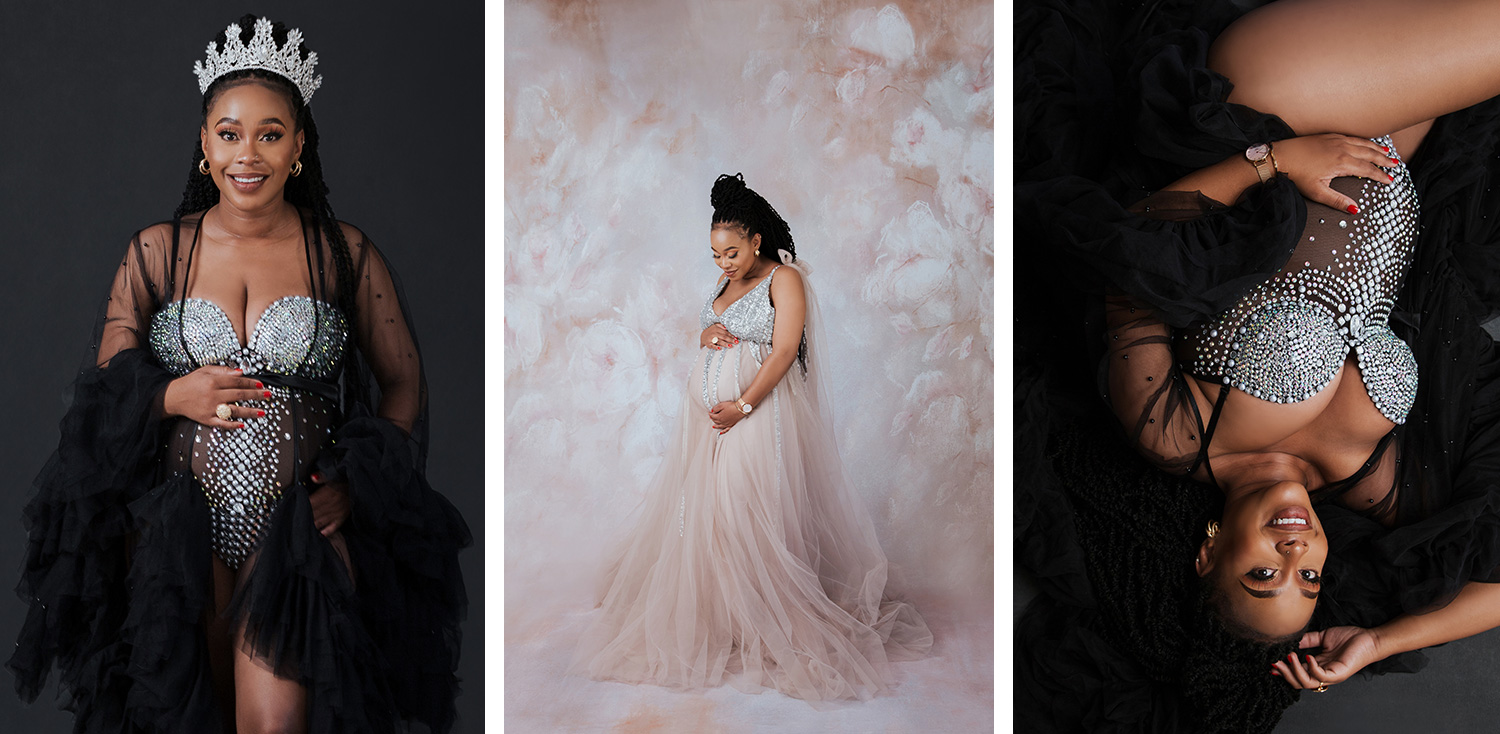 The maternity and newborn photoshoot packages includes the use of my studio wardrobe collection.
Dresses, gowns, bodysuits, head pieces etc.
The best time for your photoshoot is during the last trimester, around 30 – 35 weeks.
All packages include both parents and siblings. Grandparents and other family members can be included at an additional cost. Please enquire about the rates. Photoshoots can be done in studio OR outdoor location. I have a list of beautiful locations you can choose from.
STUDIO MATERNITY BELLY & NEWBORN PACKAGES
My studio is situated in Centurion, Pretoria.
Belly package 1 | MATERNITY SHOOT ONLY (studio): R3500
(*MIDWEEK MONDAY TO THURSDAY R3000)
Approximately 60 – 90 minutes maternity session
Private online gallery with 30 beautifully edited, high-resolution images
You may choose 3 looks : dresses, gowns, bodysuits for your session
Album & print options are available
Belly to baby package 2 (studio): R6000
Approximately 60 – 90 minutes maternity session
2/3 hour newborn session
Private online gallery with 30 beautifully edited, high-resolution images from each session
You may choose 3 looks : dresses, gowns, bodysuits for your session.
Album & print options are available
Belly to cake smash package 3: My first year (studio): R10500
Approximately 60 – 90 minutes maternity session
2/3 hour newborn session
1 hour 6-month-old sitter session
1-hour cake smash session when they are 1-year-old (I supply the cake, outfit for baby and decorations!)
Private online gallery with 30 beautifully edited, high-resolution images from each session
You may choose 3 looks : dresses, gowns, bodysuits for your session.
Album & print options are available
Once your booking is confirmed and deposit is paid I will email a what to wear guide to help with the planning of your photoshoot ♡
OUTDOOR MATERNITY & STUDIO NEWBORN
Belly package 1 (outdoor): R3000
Approximately 1 hour session at The big red barn (additional venue fees if you want to do the shoot at another location)
Private online gallery with 40 beautifully edited, high-resolution images
You may choose 1 dress, gown or bodysuits for your session.
Album & print options are available
Belly to baby package 2 (outdoor maternity, studio newborn): R5500
Approximately 1-hour maternity session (outdoor)
2/3 hour newborn session
Private online gallery with 40 beautifully edited, high-resolution images from each session
You may choose 1 dress, gown or bodysuits for your session.
Album & print options are available
Belly to cake smash package 3: My first year (outdoor maternity, rest are studio): R11 000
Approximately 1-hour maternity session (outoor)
2/3 hour newborn session
1 hour 6-month-old outdoor sitter session
1-hour cake smash session when they are 1-year-old (I supply the cake, outfit for baby and decorations!)
Private online gallery with 40 beautifully edited, high-resolution images from each session
You may choose 1 dress, gown or bodysuits for your session.
Album & print options are available
Once your booking is confirmed and deposit is paid I will email a what to wear guide to help with the planning of your photoshoot ♡